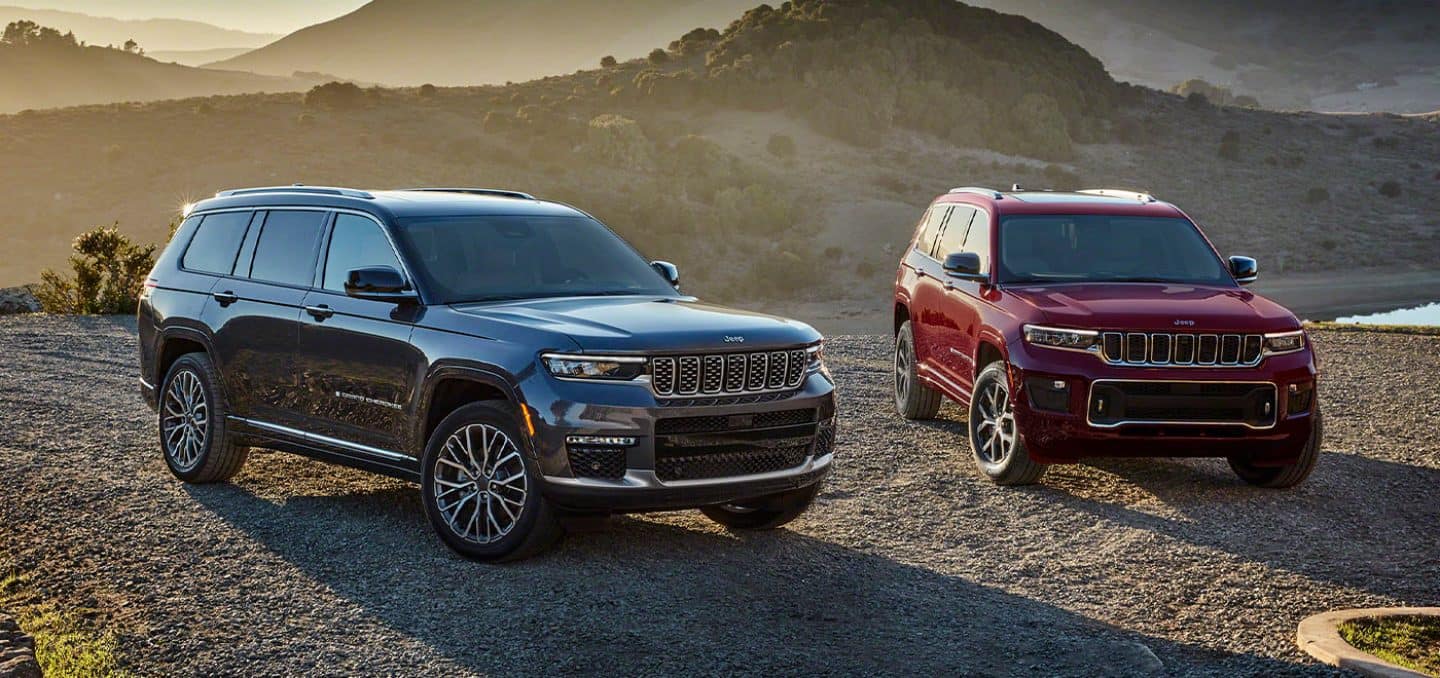 Top Jeep Grand Cherokee L Accessories
Find The Right Accessory for Your Jeep!
The new 2021 Jeep Grand Cherokee L makes it easy to pack anything and everything you need along for the ride thanks to its spacious three-row interior. It also offers impressive capability, especially in its Overland trim. Whether you're looking for a more spacious vehicle for your everyday commuting and driving needs, or you're specifically looking for a larger SUV for your active and adventurous lifestyle, there is a Jeep Grand Cherokee L model for you! Aside from the wealth of impressive features included in the Jeep Grand Cherokee L, there are also a wide array of accessories to help you optimize all of those features, and then some. These range from appearance accessories, equipment for better towing, storage solutions, and much more. Continue reading below as we highlight some of our favorites!
Exterior Accessories
For the exterior of your Jeep Grand Cherokee L, there are a variety of accessories that will enhance both functionality and appearance. There's an available license plate frame that will add some style to your vehicle while also protecting the license plate from scratches and bending. There is also a Jeep Accessories emblem that will help you show off your Jeep spirit! You can also order functional accessories like valve stem caps, and windshield wiper blades. Certain Jeep Grand Cherokee L models feature rain-sensing wipers, and having the right blades will ensure that this feature does its very best!
Accessories emblem
License plate frame
Valve Stem Cap
Wiper Blades
Cargo Solutions for the Exterior
The Jeep Grand Cherokee L has cargo solutions that will help you safely carry a variety of gear. For example, there's the Kayak Rack, the Surfboard Rack, and the Winter Sports Rack, each of which is specially designed for carrying a different type of equipment. For less specific items, there's also a rooftop cargo net, which allows you to tie down a greater variety of things. For items you'd like to keep safe from the elements, there's also a hard shell cargo carrier.
Kayak Rack
Surfboard Rack
Cargo Net
Cargo Carrier
Interior Accessories
Interior accessories for the Jeep Grand Cherokee L can help you further organize any cargo you may have. The two rear rows of seats can fold flat for storing larger items, but for those smaller bits and pieces, there's the Cargo Tote, a multi-compartment soft organizer that will keep everything secure and prevent it from rolling around. There's also a cargo mat for the rear floor area that will keep it from getting scuffed. Rubber floor mats for the footwells will provide an easy-to-clean layer of protection, while pedal covers add a more distinctive look up front.
Cargo Mat
Cargo Tote
Rubber Floor Mat
Pedal Cover
Maintenance and Performance
Finally, there are many accessories that will help improve the performance of your Jeep Grand Cherokee L, as well as keep it in good condition for years to come. For optimized towing performance, there's a Tow Hitch Ball, as well as a Tow Hitch Adaptor. In terms of maintenance, some of the available accessories include an oil filter, and a spark plug. Accessories like these will help you with the upkeep of your Grand Cherokee L, and hopefully help you make fewer repairs down the line! 
Tow Hitch Ball
Tow Hitch Adaptor
Oil Filter
Spark Plug
Find Your Mopar Accessories at St. Clair Jeep Dodge Ram!
No matter what your needs are for your vehicle, Mopar carries an accessory for you! You can browse their inventory online to see the full selection, or you can put in a request with our service center to order the part or accessory you need. You can even make a service appointment online to have your part or accessory installed. Shop online, or give us a call today at St. Clair Jeep Dodge Ram of St. Clair, Michigan!