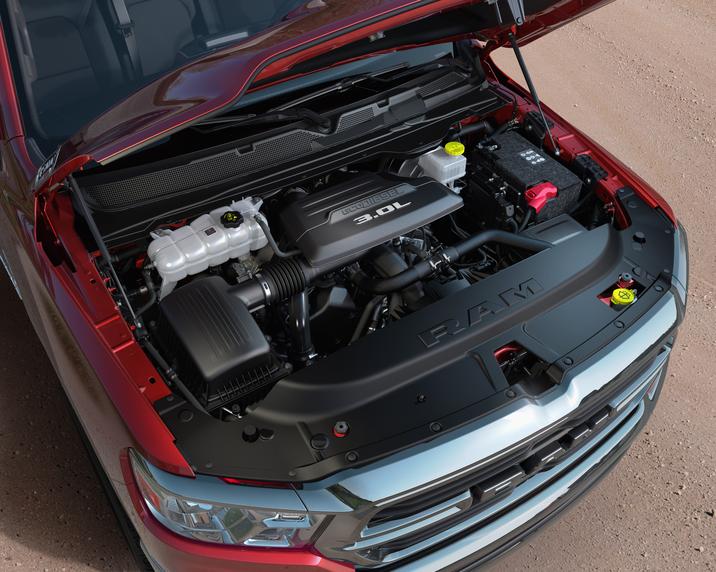 Introducing the 2020 Ram 1500 EcoDiesel
It's an important time right now. That's because it is time for a freshly-designed 3rd-generation 3.0-liter V-6 EcoDiesel in the Ram 1500 pickup truck in 2020! This one is ready to get the work done faster than ever before with a best-in-class torque rating (480 lb-ft of torque) that can tow up to 12,560-pounds. It already tops "Wards 10 Best Engines" for 3 years in a row (2014 - 2016) and is now produced in Ferrara, Italy, then built in Sterling Heights, Michigan. Additionally, in 2020, it can be placed into all Ram 1500 models, which extends even to the Rebel model for the first time ever. Now that is going to be a popular combo! Let's find out more about this incredible engine and the work that Ram put into it right here!
2020 EcoDiesel Design and Capability Points:
--Augmented cylinder head intake ports corral air currents directly, establishing improved fuel-economy & performance.
--The Selective Catalytic Reduction (SCR) system is 50-percent bigger in size and consolidates a new-gen diesel oxidation catalyst with the Diesel Exhaust Fluid (DEF) system to subdue NOx.
--A new-generation, variable geometry turbine turbocharger is cooled with water.
--The compression ratio goes from the previous 16.5:1 to an extraordinary 16.0:1.
--A binary vacuum pump system allocates both electric and an innovative mechanical low-friction pump with reformulated blades for raises in system proficiency.
--High-pressure direct-injection fuel injector nozzles were rebuilt in agreement with the reinforced combustion chamber. (29K psi/2K bar).
--Exhaust gas re-circulation system core now has a twofold loop (low/high pressure) system.
--Aluminum alloy pistons were wholly re-created to fuse smaller rings in as well as a low-friction coating on the pin & side-skirts, decreasing in the potential for losses.
Reid Bigland, Head of Ram Brand, summed it up this way: "The new Ram 1500 EcoDiesel is America's most powerful half-ton diesel pickup, following up on Ram's Heavy Duty torque leadership & achieving what no other manufacturer has, with up to 480 pound-feet of torque in a 3.0-liter engine."
What are the Power Stats for this Engine?
It's amazing that Ram improved upon such a strong engine to begin with, but truth be told, both torque & horsepower expand, and exciting new capacities appear, such as the new 16.0:1 compression ratio. This engine moreover gains a best-in-class title with its 480 lb-ft of torque at 1,600-RPM. In the 2020 Ram 1500 truck, the 3.0-L EcoDiesel V-6 reports an upswing of 14-percent in deliverable torque from just 2018! The new engine empowers horsepower quantities of 8-percent more as well (in comparison to the 2nd-gen engine), up to 260-hp at 3,600-RPM! All this means that it becomes the highest available half-ton diesel truck with a towing capacity of 12,560-pounds!
The 2020 EcoDiesel In Even More Detail!
The 3.0-liter EcoDiesel V-6 conducts a 60-degree angle within the cylinder banks as well as dual overhead camshafts (DOHC) that involve 4 valves per cylinder. The EcoDiesel V-6 encourages a forged steel crankshaft and installs buttressed connecting rods. Examining further, there are heat-treated aluminum cylinder heads that contain separate bearing caps, which tempers friction and muffles noise, vibration, and harshness (NVH). Important details were also addressed in this rebuild, such as the fact that roller-finger followers assist the chain-driven overhead camshafts and that aluminum alloy pistons get chilled at their base by oil jet-mists! The block is now lighter than the conventional cast-iron version because it is made with compacted graphite iron, which better supports strength, preserves fuel, and cushions vibrations. Facilitating that end is a bedplate made of compacted graphite iron that's on the block, adding to functional rigidity. 
"The all-new EcoDiesel engine & our eTorque mild-hybrid powertrain technologies deliver the highest available fuel efficiency for our Ram 1500 customers. Now with a 10-year track record, the Ram brand has emerged as a truck powertrain technology leader. Overall, the Ram 1500 EcoDiesel has outstanding pick-up truck capability and is truly in a class of its own." - Reid Bigland.
The 2020 EcoDiesel Engine in a 1500 Pricing is Out, and It's Ready to Roar!
First of all, take a gander at
Our New Inventory of RAM 1500 trucks right here
, then we can get to talking about what you want! Ram officially released the pricing as starting at $36,890, plus $1,695 destination. Let's see what this engine has to offer you today, go on and give us a call here at St Clair Chrysler Jeep Dodge RAM about it anytime!