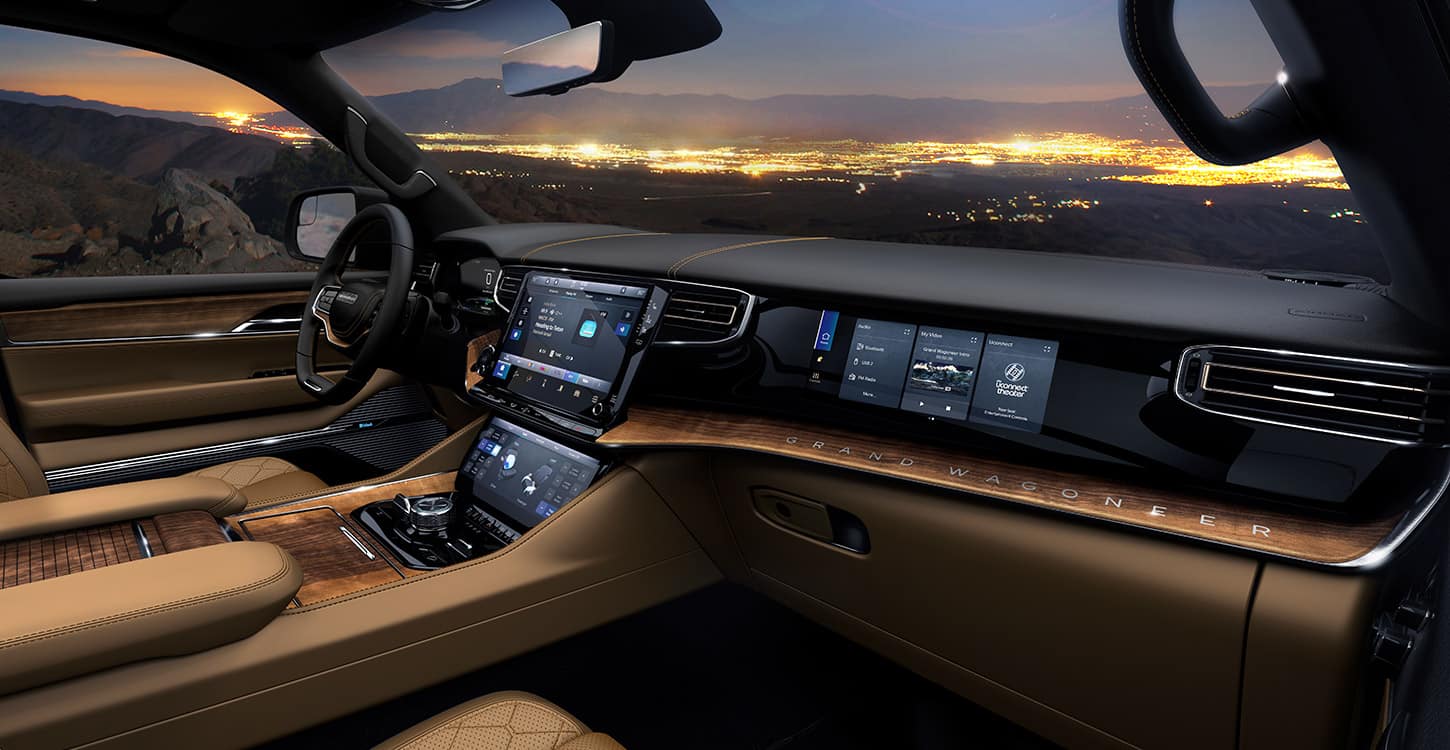 2022 Grand Wagoneer Technology Features
The 2022 model year is bringing a brand-new three-row SUV. The return of the Grand Wagoneer marks a historic moment for the SUV segment, not only because the Grand Wagoneer's long-awaited return has finally come, but the Grand Wagoneer will also introduce some of the most advanced technology features in the automotive market! Keep reading below to take a close look at the 2022 Grand Wagoneer and all of its next-generation technology!
Features of Uconnect 5
The next-generation Uconnect 5 infotainment software offers some amazing technology. Uconnect 5 operates nearly five times faster than the current Uconnect software. The Grand Wagoneer's center stack houses an infotainment touchscreen that is fully customizable to suit the preferences of up to five drivers. The user profiles can also memorize mirror angles, seat position, climate control settings, music preferences, and more. Uconnect 5 also features wireless Apple CarPlay and Android Auto for uninterrupted smartphone integration without cluttering the cabin with wires. The passenger touchscreen on the Obsidian and Series III trims features co-pilot technologies like navigation, device management, and more. Amazon Alexa virtual assistant is also available with Uconnect 5 allowing drivers to continue a shopping list, check the weather, and more. The 10.1-inch rear-seat entertainment screens feature Amazon Fire TV for access to thousands of apps, movies, and TV shows. Other standard features of Uconnect 5 include voice recognition, 4G LTE WiFi for eight devices, TomTom navigation with updates over the air, Bluetooth for up to two devices, and much more.
2022 Grand Wagoneer display screens
There are up to 75 inches of available touchscreen display screens in the 2022 Grand Wagoneer. Starting behind the wheel, you'll find a frameless 12.3-inch digital driver information display. The screen can be set to fit driver preferences with five panels and nearly 24 menu options that can be memorized in the five user profiles. The center stack features a 12-inch infotainment touchscreen above an articulating 10.25-inch climate control touchscreen. The climate control touchscreen manages the four-zone automatic HVAC system, front seat heating and ventilation, and much more. The top two trim levels house a 10.25-inch in front of the front passenger for co-pilot features. Second-row passengers have a total of 30 inches of display. There is a 10.1-inch touchscreen on the seatback of both front seats for second-row entertainment, while a 10.25-inch fixed touchscreen is on the second-row center console for climate controls.
Digital driver information display
As mentioned above, the driver information display is 12.3 inches, frameless, and fully customizable. Drivers can set their preferences for each of the five panels. The default display is the traditional RPM and MPH gauge between a digital speedometer layout. The panels can be set to display turn-by-turn navigation, caller ID, driver assists, current music selection, speed limit, and much more. The extensive list of Grand Wagoneer driver assists like lane departure warning, adaptive cruise control, traffic sign recognition, blindspot monitoring, and many more.
Grand Wagoneer sound technology
The Grand Wagoneer will feature an industry-first McIntosh sound system to provide home-theater-like sound quality for your everyday drives. McIntosh worked closely with the Grand Wagoneer designers to create two custom premium audio systems for the lineup. The Grand Wagoneer Series I and Series II feature the 19-speaker MX950 sound system which features a strategically placed 10-inch subwoofer and a 17-channel 950-watt amplifier. The top two trims, Obsidian and Series III feature MX1375, a 23-speaker system with a 12-inch subwoofer and a 24-channel 1375-watt amplifier. Coupled with exquisite sound insulation, the Grand Wagoneer provides crystal clear sound for all occupants.
Get a 2022 Grand Wagoneer in St. Clair, MI
After a long 30 years, the Grand Wagoneer is finally returning to the premium SUV class to retake its crown as the gold standard of the premium SUV. You can learn more about the Grand Wagoneer by reading our
full review
right here online. To get your hands on a Grand Wagoneer, reach out to the friendly sales team here at St. Clair Chrysler Dodge Jeep Ram!